Google Business Profile Update November 2022 (New UI)
The update was announced earlier and took place in several stages. All users were surveyed on where they feel more comfortable managing their business profile. As a result, a few months later we got a completely new profile management interface directly from google search.
Also this summer, Google shut down the smartphone app and users stopped using the Google Business Profile app.
How do I edit the information now?
Google has already released helpful instructions on how to add information to your Google profile.
We have also prepared information about several features of the new interface that may be useful for you.
What do you need to know about the new GBP UI 2022?
Previously, you had to go to many sections to edit information or add photos or services for your business. 
You'll be surprised, but it's all in one place now. Yes, many people will find the new look strange, but do not immediately criticize (as we did on the first day), better try to make basic changes and you see what has improved.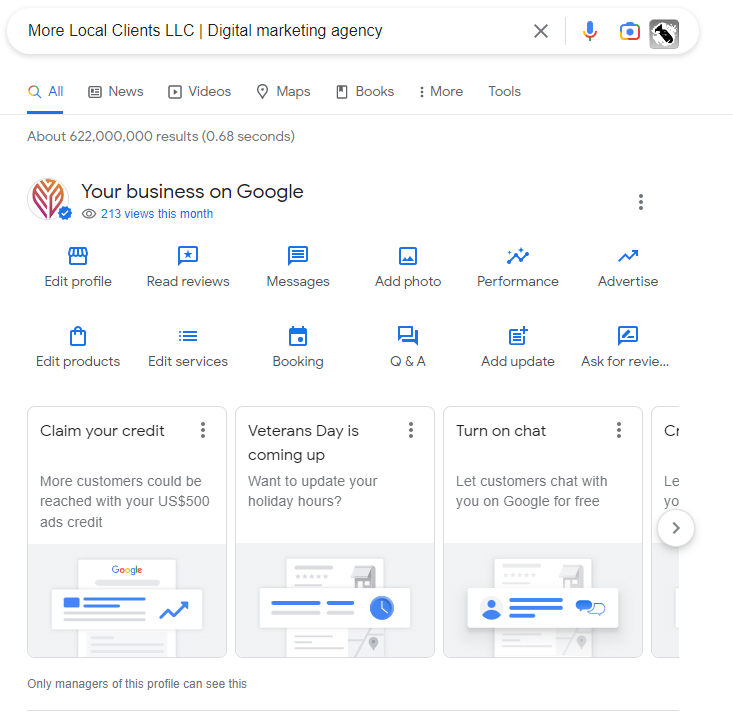 So, as you can see, all the information is now collected in one place with the ability to edit a profile, namely:
Editing basic information
Read reviews about the company
Chat with clients
Add photo
Performance
Advertise
Edit products
Editing services
Booking
Q&A
Add news
Ask for feedback
Do you remember how many steps you had to go through before to get a link to the review form. Now it's done in 1 click.
Advanced functions and other general settings
In addition to the basic functions, we also have additional functions (those on the right side of the burger menu)

The main menu consists of the following items:
Business Profile settings
Notifications
Add a new Business Profile
Your Business Profiles
Help & support
Send feedback
Terms of Service
Business Profile settings:
Managers
Add, edit and remove profile managers
Advanced settings
See profile ID and manage labels, shop codes and other settings
Remove Business Profile
Mark this business as closed or permanently remove this profile
Linked accounts
See and manage link requests from other Google products, such as Google Ads or Merchant Center
Google tips are now more visible
Follow Google's recommendations and you'll be happy
If you're new to google business profile, then you should pay attention to these tips, but if you already have experience – google will remind you of something new in this block.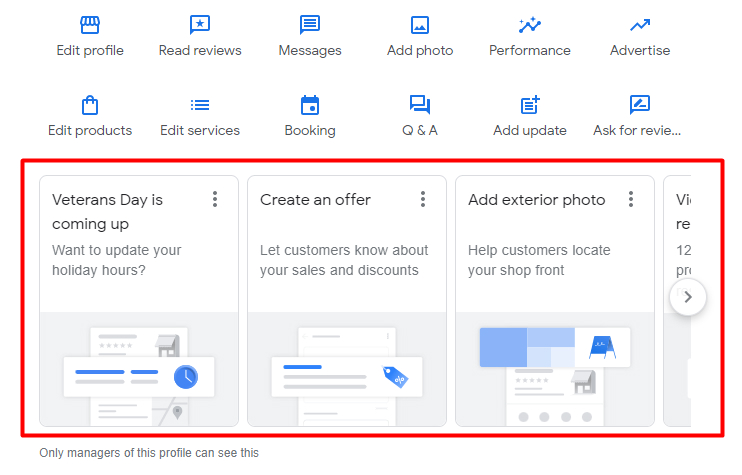 A few facts and tips about updating Google Business Profile in November 2022
Don't be intimidated by updates 
Google is a big corporation and the professionals who work there do a lot of research. Only after this research and several years of testing do they publish any changes that in many cases improve or optimize the services.
Never stop learning more and more
With new updates come new opportunities, to get those opportunities you have to learn it and be in tune with your knowledge. You can learn from the best. We can advise you on several sources for this:
Neil Patel Youtube Chanel – is a New York Times best-selling author. The Wall Street Journal calls him a top influencer on the web, Forbes says he is one of the top 10 marketers, and Entrepreneur Magazine says he created one of the 100 most brilliant companies.
BrightLocal Youtube Chanel specializes in local SEO, helping to make local marketing simple for SMBs, agencies, multi-location businesses, and more across the globe. Founded in 2008, BrightLocal provides trusted local SEO tools in one secure and unified location.
Ranking Academy is where small business owners turn to get higher ranking and better online visibility through search engines.
Grab every opportunity to get more local customers. And our team of Local SEO professionals can help you achieve your goals. Just leave your contact information on the contact page and we'll be sure to get back to you. Also if you would like to get a free audit of your business we can help you with that, just go to this page and get a totally free audit.